Every Woman Needs a Briefcase - Briefcase Style Guide
It does not matter what you do. You should have a briefcase. Seriously, it doesn't matter.
You should have a briefcase if you are a student, office worker, mother, or whatever.  There's something very different about a briefcase, and we don't just mean the obvious, such as it's not carried like a backpack.  Briefcases communicate something different. When you stroll into the office, school, or an interview with a briefcase, it communicates something unique. It shows others that you mean business and you are here to participate. You are here as a strong woman. 
Below you will find more information about some of our bestselling briefcases. And as with all Ecosusi products, the briefcases are only made from vegan leather.
Women's PU Detachable Bow Briefcase
The perfect briefcase for all occasions. There's a reason why this is a best seller and an iconic Ecosusi bag. It can switch between being a brief and a backpack. Not only that, but the stylish bow is detachable. So when you have work meetings, you can take the bow off, and when you're out in social situations, you can put the bow on.  The bow always gets a lot of attention.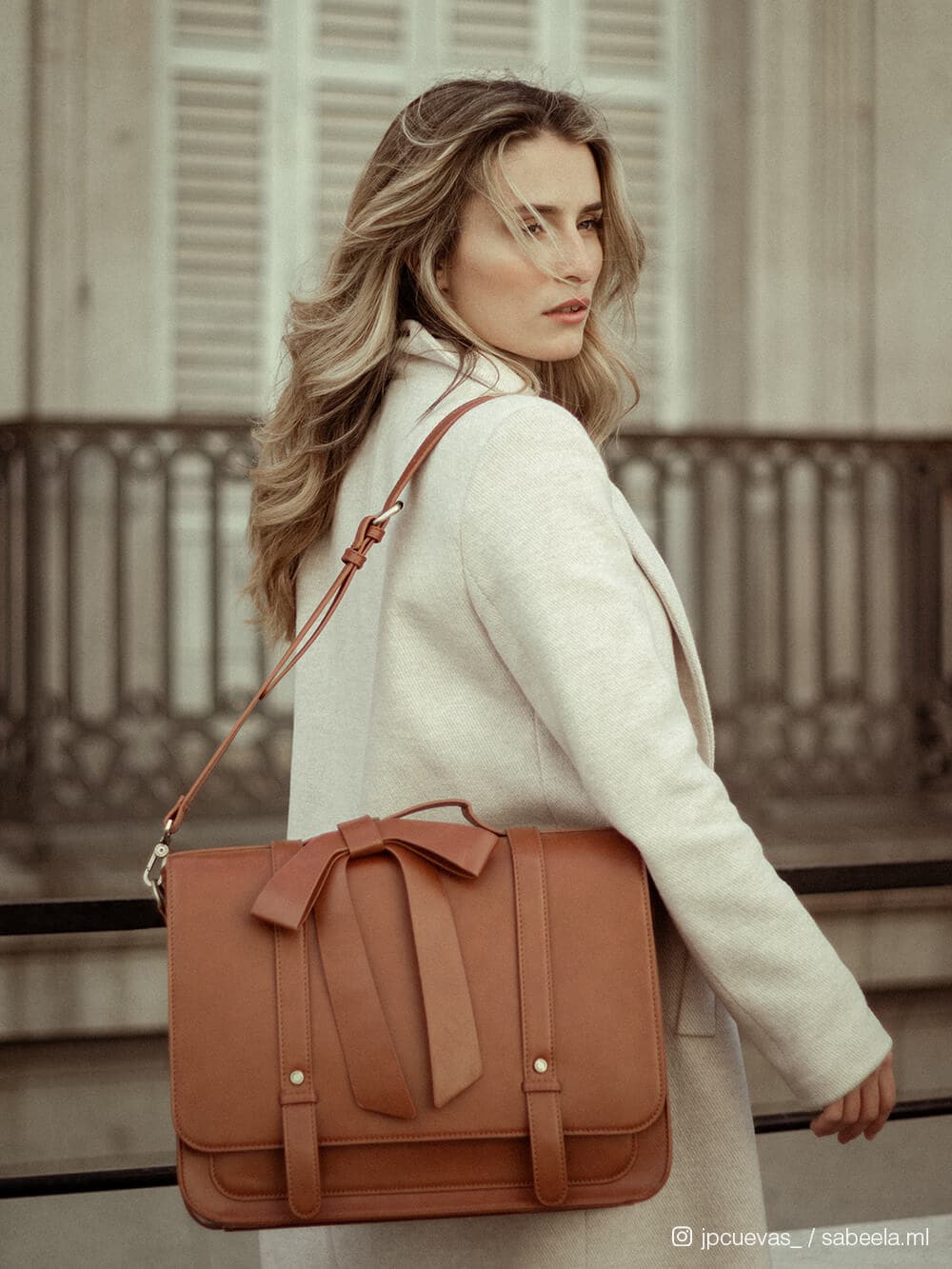 You've got a lot of choices for how you carry the bow and look of it. It's one of our more versatile products. And it's available in multiple sizes - standard and big. Obviously choosing the right size depends on your needs. 
Here are the measurements - Standard - 15.3 x 11.4 x 4.7 inches.  And can fit  13-14.7-inch laptops.
Big - 15.7 x 11.8 x 4.7 inches. And can fit 15.6-inch laptops. 
Both sizes are available in multiple colors  -  brown, red, coffee, and black. No shortage of choices. 
Women's Vintage Bow Small Briefcase
Another Ecosusi classic! Similar to the briefcase mentioned above, but this is much smaller.  The bow is also detachable. 
Uniquely designed vintage-inspired briefcase for modern women. Available in 6 colors. There's a color for every occasion! You can choose from - purple,  brown, red, blue, yellow, and black. When in doubt, get two! The more vibrant colors, purple, yellow, blue, and red, are perfect for social occasions, and brown and black are excellent choices for professional settings. But of course, those are only our suggestions. 
the size of the briefcase is 10.6" (L)x 7.9"(H) x 3.5"(W). But don't let the small size fool you.  There are multiple compartments to store your items neatly. 
Grab yours today!
Women's Faux leather Classic Big Briefcase
This briefcase is a bit different than the others mentioned in this article. It's probably not the most suitable for professional meetings. It's a great choice to match your minimalistic vintage style. And what's great about this briefcase is it can easily convert into a crossbody bag or backpack. Carry it however you like! 
The size of the back is 15.3 x 10.8 x 4.9 inches. And is available in colors -black, red, brown, and coffee.  The bag has plenty of space for your belongings. The briefcase has a padded compartment for your laptop. As well as a zip compartment, 1 large compartment for files, documents and other notes, small slip compartments, 2 pockets for pens, and 1 outside compartment for easy access to things you need.
Still not sure if this is the briefcase for you? Read the dozens of reviews on our site.
Women's PU Stylish Cambridge Backpack
A classic vintage look. This bag is the perfect blend of modern and vintage design. And like other briefcases on this list you can carry this bag in multiple ways. The bag has detachable straps to convert into a back easily.   Want to carry it as a backpack or a briefcase? You decide. 
The bag size is  14.5" x 4" x 11.4 inches. It's spacious enough to fit a 14-inch laptop and has multiple comfortables to organize your belongings neatly. 
You can select from four colors - brown, yellow, blue, and black. 
And for those who want a more modern, vibrant look, then there's - Sombre vintage briefcase. At first glance you'll notice this bag has a more modern look. If you're looking for a briefcase that's unique and vibrant, then this might be for you. Similar to other briefcases, you'll also be able to use this bag as a backpack. We love to design bags that are versatile and practical!
Perfect for school or for the office as the bag is spacious enough to fit everything you might need for the day. And can easily accommodate laptops up to 15.6 inches.
The big is available in four vibrant colors - pink, blue, brown, and black. Each color is unique, so choose whichever matches your style. 
Final thoughts 
If none of the above briefcases are your style, then don't worry! We have much more available. You can explore our full briefcase product range here. There's a design for everyone.