Back-to-school trendy style 2022/2023- Discover Ecosusi's effortless pieces for the upcoming semester
As fashion month is upon us, a little tour of Ecosusi Back-to-school fashion edit arrives just in time to help you know and follow the latest trends, as well as the strong pieces of the season to make a no-fault for your first day of college, school, or internship.
Wear the one - or the other? - who has never torn her hair out in the morning in front of her closet - "I have nothing to wear!!!!" - raise your hand, and get out. For the rest of you, this article is for you: a focus on five fashion gurus who give concrete and useful tips and tricks on the hottest 2022/2023 styling. A goldmine in which you can find good ideas and inspirations in terms of clothing, beauty, or lifestyle before leaving for high school, college, or elsewhere! Let's take a look at these special species and unveil the world of fashion.
The street vibe is never out of style. @janettgallagher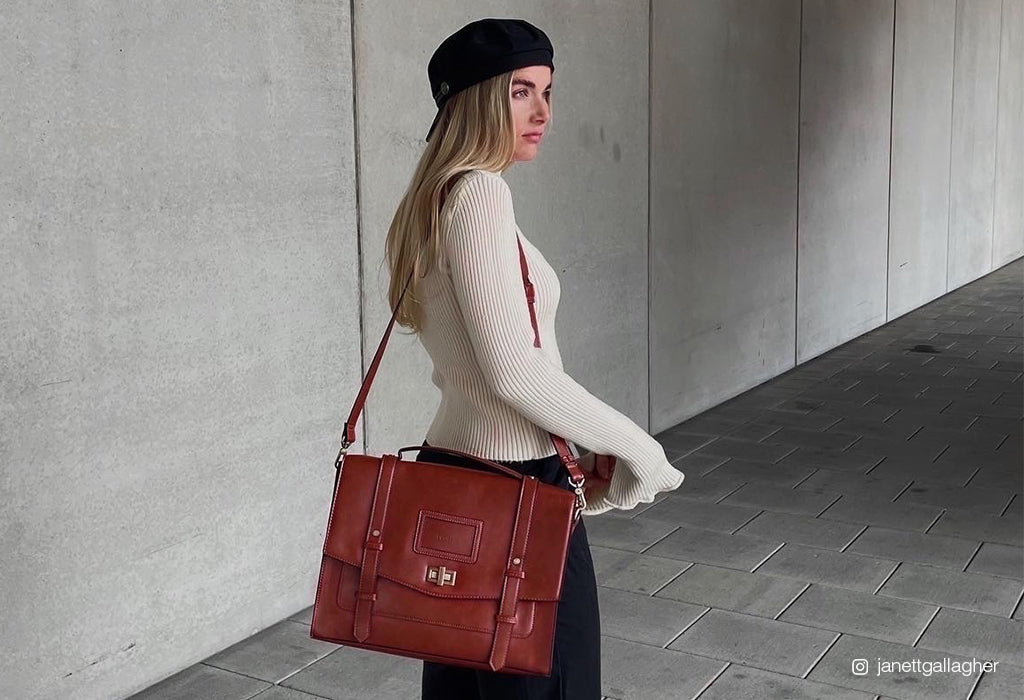 A street-style outfit would be the easiest and most effective way to get started. Throughout history, this style of dressing has been popular and well known in many countries. Example? Well, I guess you must be familiar with Penny from The Big Bang Theory or Carrie Bradshaw from Sex and the City.
Alternatively, street style does not mean wearing anything at random with no thought to how it will look. Here's how Janett makes a striking example: With a baseball cap, an oversized silhouette, and last but not least, a classic vegan leather Cambridge briefcase with perfect hues to lend a finishing touch, she has just the French "je ne sais quoi" that makes people envious on the campus or street. "In terms of fashion, you should have a nose for it." She hopes that this street chic casual style will allow many students – maybe you - to draw a maximum of ideas and inspirations for the outfit of the day.
Let's play with sporty-vintage style. @bayagorbusha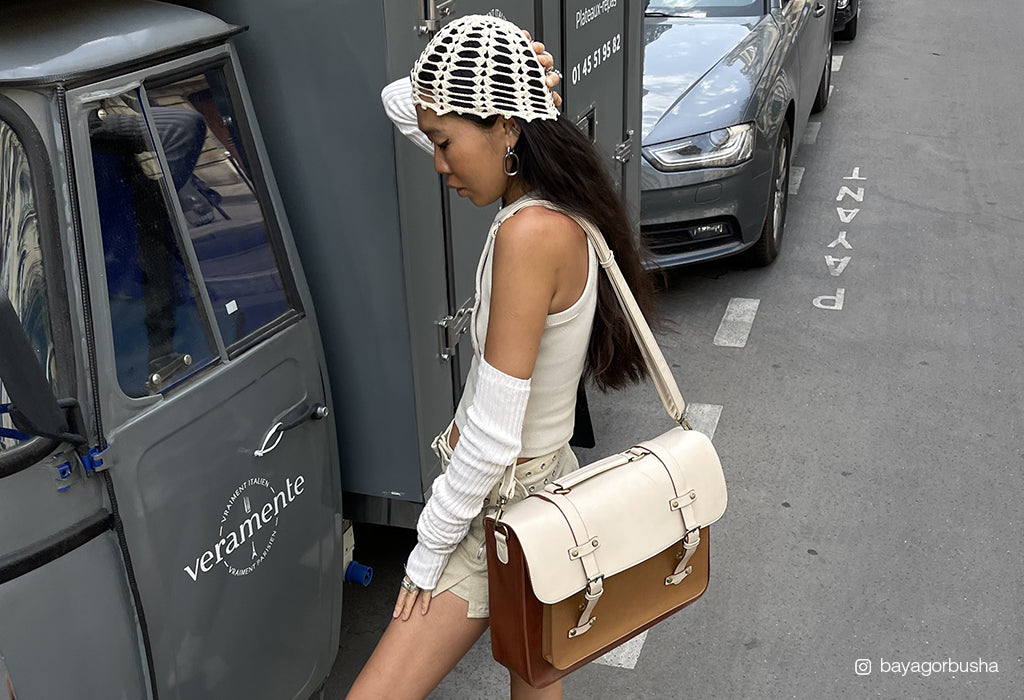 For the past few years, the ultra-fashionable Instagram star has managed a feat that seemed unthinkable: making more and more people enjoy and create fashion, especially the vintage, through her creative posts on social platforms. One of the latest trends she has captured with her keen eye is the sporty-vintage style. It's a hybrid of two, seemingly irrelevant styles, in one.
Baya has created it in a light-weighted way, without taking fashion rules too seriously, while at the same time discovering the strong trends and must-have pieces of the season. The skin-tight vest, the white sleeve gloves, the mini skirt, and the black shoes showcase activewear from head to toe. It's no doubt that "athleisure has made the leap from a fitness class to everyday wear."
But Baya knows this is never enough. If that's how she dresses today, then it's not her style. She doesn't follow trends blindly; she got to have her own creation and lead the trend." That's when she, as a vintage lover, immediately noticed the Sombre briefcase and incorporate the timeless elegance and playful spirit into her style.
Ethereal and cottagecore aesthetics make your day comfortable. @lollisme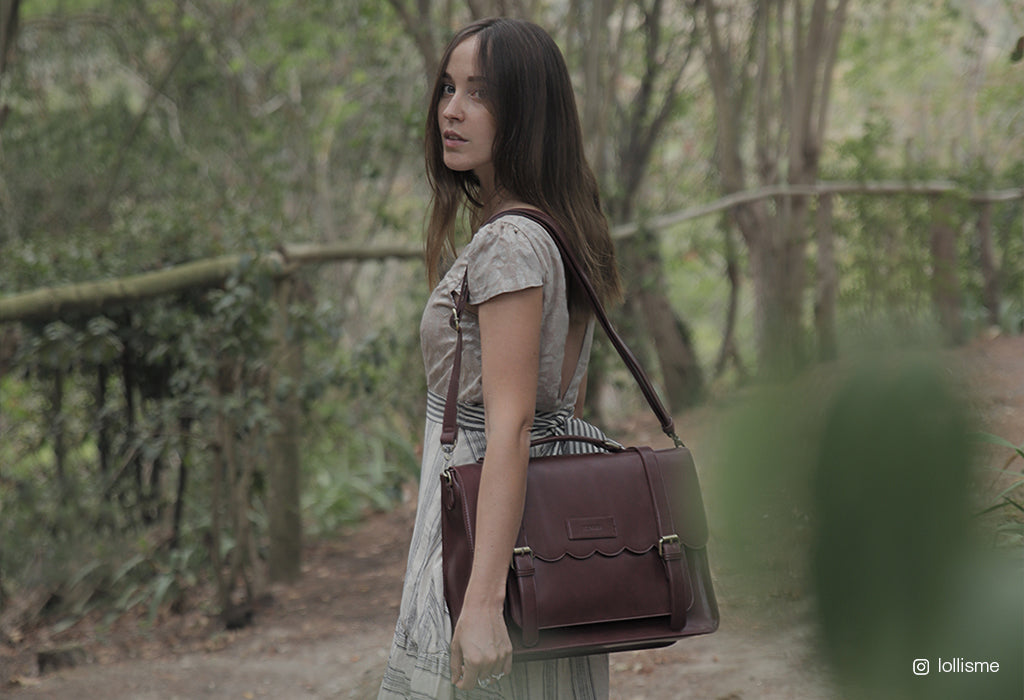 If you wish for a fairy godmother who whispers precious outfit ideas in your ear on those mornings when inspiration is really lacking, then you definitely need to take a look at Lollisme's outfit style. She takes on a fashion that speaks to you, whether you are on an internship, or you have to trudge all day between a lecture hall bench, a bus stop, and an evening cocktail with friends. Here's her silver platter, a fashion that you can make your own, without navigating all day long on the Internet. The principle is simple: romanticize your day. And how? By wearing ethereal and cottagecore clothes and bags. A minimal design of rustic dresses and a Sofia vintage briefcase with basic colors, then voila! You can carry all romantic feelings and stay comfy everywhere you go.
Light academia and dark academia? You deserve both. @readbytasha @the_sick_rose_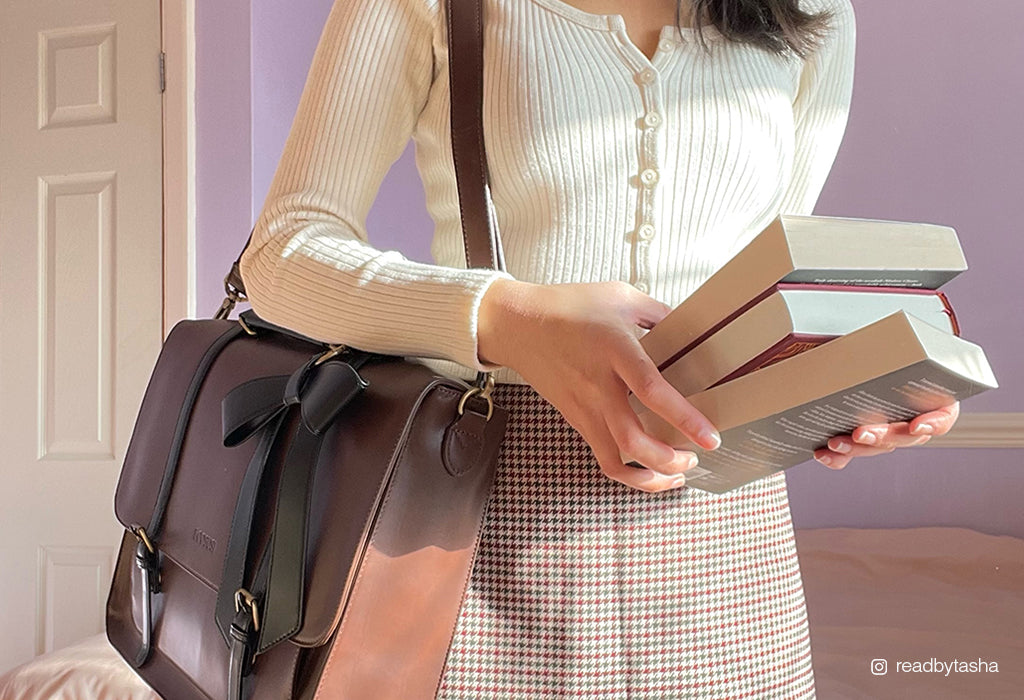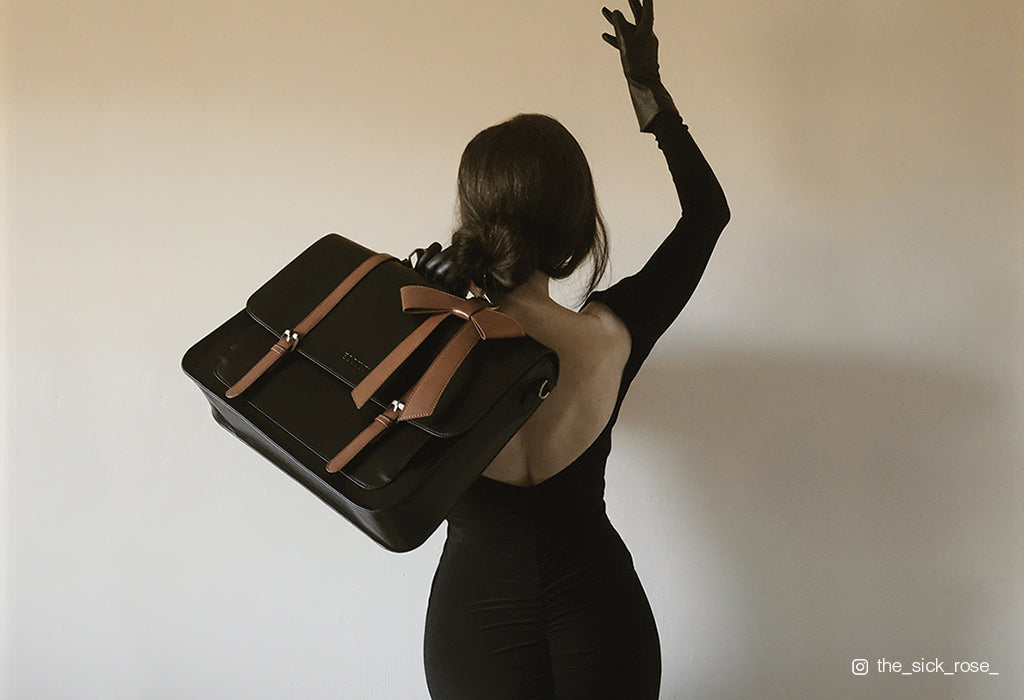 You'd like to look more intellectual, witty, or more unusual? Well, Tasha and Sick rose have brought their unique styles and a perfect explanation that you can try both.
The two aesthetics seem very different from each other, but you should know that both these two styles come from cultural beliefs, ideas, and eras. The presentation may be different, as Light academia uses light and bright colors which focus on "the warm and positive, pleasurable parts of student life", while dark academia uses dark colors such as black, dark brown, etc., to showcase a spirit of mystery, puzzle, like Harry potter.
Either way, these two styles are hopelessly elegant that will surely make you the campus chic. Also, the decoration of our classic bow briefcase proves that this exquisite piece is suitable for any kind of school style.
There are many other back-to-school styles, but I think the best way to create your personal style is to find them away from fashion magazines, away from fashion shows, but from your daily life and those strangers- maybe in a cafeteria in Paris, maybe at the corner of a street in New York, maybe on the beach of Barcelona… And soon, you'll discover a more colorful and stunning fashion world that will provide endless inspirations for your back-to-school or any other style.