Mother's Day 2022 gift guide: 6 Best gifts for mom from ECOSUSI Selections
East or west, mom is the best, and she should be spoiled and loved 24h/7, 365 days, not just on Mother's Day. But as Mother's Day is around the corner, it's pretty meaningful to add some festive vibes and send the leading woman in your life a distinguished gift, whether she is the one who raises you or has been giving you a mother's love, or someone new to the whole parenting thing.
Mom deserves the best; her glamour should not be overshadowed by domestic chores. As her daughter, son, husband, or another member of her family, we should keep in mind that she does it all out of love and responsibility without asking for anything in return. But we can't take that for granted. It's time to thank that special woman in life to show that you care and love her the most! Instead of traditional gift ideas such as a brunch or a bouquet of flowers, you can choose from our list of beloved stylish and coveted designs that will brighten her day and speaks most of her personality.
1. 
Begonia bag Collection
ECOSUSI's Begonia collection is a blend of modern and vintage design coupled with a classic style that can be worn by any mom for her everyday use or to complement her office style. The retro bow decoration on the flap will have the wearer standing out in the crowd to a great extent, as it is so eye-catching.
These collections come in two sizes and will make great companions for your leading lady whether on a daily basis, during travel, or while commuting. They are made of soft vegan leather, making them comfortable to carry. Let these exquisite details show your mom how much you love her!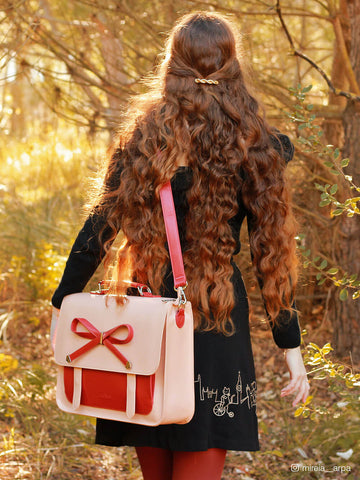 Why not try our printed pattern tote bag for moms who love classic style?
The tote bag has been a fashion classic since its inception for its large capacity, simple and elegant design, easy portability, and less formality. We have combined these elements with a vintage design to create this timeless piece that would be perfect as a gift for your mom, representing timeless love.
The tote bag is not only aesthetically pleasing but also versatile, allowing it to be carried for daily hanging out or work. Features two small detachable bags on the front; the tote will definitely win her many compliments with its stylish look.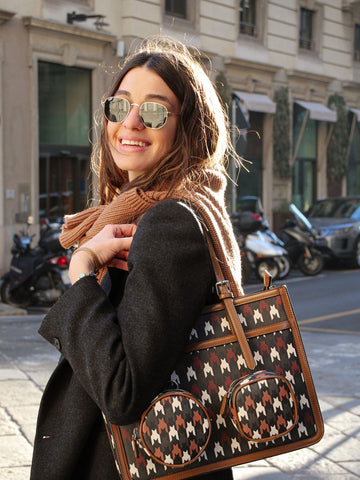 3.
Sombre vintage briefcase
If you are unsure or hesitant about what style of bag to gift your mom back, then our best-seller - Sombre vintage briefcase is definitely the best choice for you. This bag has a harmonious and dreamy color design and is available in a variety of colors to match different personalities. Features multiple carrying options and a large capacity, the practical vegan bag allows moms to wear it on many occasions and carry your love all day long.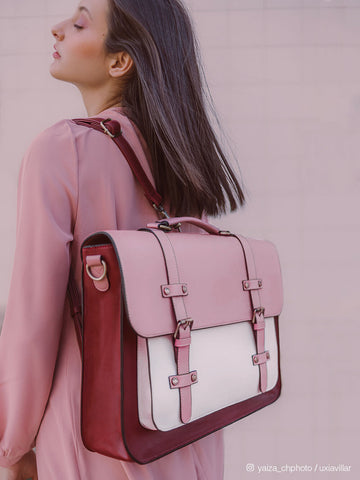 If your mother already has one of the aforementioned beautiful bags, or you're looking for something new in case your mom dresses the same as others, try our Jane messenger bag,
released in April this year. The color design of this bag is based on seasonal fruits and desserts such as strawberry red, plum purple, doughnut black and macaron yellow. These bags will not only dress up daily life in a colorful way but also make it "visually delicious." Surely, everyone wants their mother to be in a sweet mood every day, so give this bag a try and raise the sweet vibe for mom!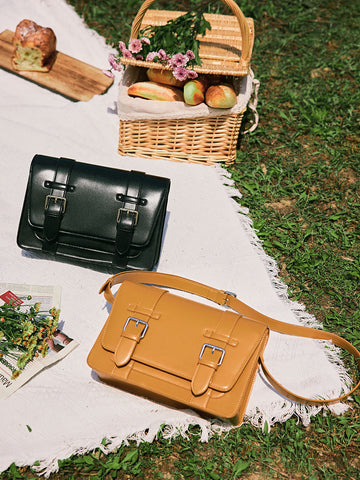 5.
Women's Classic T-Strap Leather Shoes
Ecosusi's Classic T-Strap Leather Shoes elegantly combine our vintage spirit with modern aesthetics. Crafted in pure color vegan leather with perforation, the sophisticated silhouette with t-strap design boasts a round toe and delicate adjustable straps. Featuring soft vegan linings and sole, these vintage shoes are comfortable to wear and make a great gift for mom. We're sure that these refined pieces will lend a finishing touch to her outfits.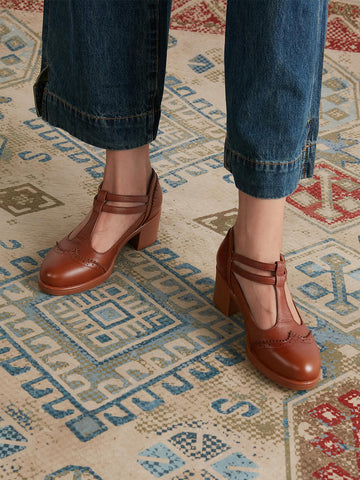 The Strappy Heeled Sandals are a staple of Ecosusi's savoir-faire and a perfect addition to a stylish mom's outfit. Featuring a flat rubber anti-slip sole that offers all-day comfort, this pair of vintage sandals can give moms an instant confidence boost and can style with a structured bag for a more elegant & fashionable look.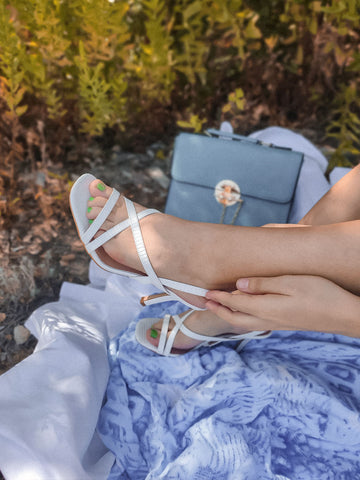 You can also take a look at our Mother's Day gift list for more options.
We hope our gift guide can help you pick the perfect gift and that this gift will keep your mom smiling.