WEDNESDAY ADDAMS' ICONIC DRESS SENSE & INSPIRATIONS
Wednesday Addams is a cultural icon. Her character, who first appeared in Charles Addams' cartoons in the 1940s, has been reinterpreted countless times over the decades and continues to resonate with fans around the world. But no matter what iteration of Wednesday we see on our screens—from the original black-and-white cartoon to the 1990s films to the recent TV series—one thing remains constant: her fashion sense. Wednesday's style can be described as dark academia meets goth, and it's served her well throughout all these years. Let's take a look at how she defines this timeless look.
Color Palette
Wednesday rocks a subdued color palette that always features black as its base. She usually pairs this with gray, white, navy blue, or burgundy for a classic look that never goes out of style. Even when she wears brighter colors, they tend to be muted tones such as forest green or mustard yellow. This muted palette gives her an air of sophistication and helps her stand out without looking too loud or flashy.
Here're some ECOSUSI bags that are perfect in this color palette:
Wardrobe Staples
Wednesday loves wearing collared shirts and neckties, often opting for plaids or stripes in traditional colors like navy blue or burgundy. She also enjoys layering garments such as blazers over turtlenecks or long-sleeved shirts paired with skirts or trousers. And when it comes to footwear, Wednesday prefers boots made from leather or faux leather materials—the kind you'd expect from a properly raised young lady!
Accessories
No outfit is complete without accessories, and Wednesday knows it! She often pairs her black dress with a variety of accessories such as gloves, necklaces, and pocket watches to add an extra element of sophistication to her look. To complete your own dark academia-inspired outfit in true Wednesday Addams style, why not add some velvet ribbon chokers or lace collars? Alternatively, if your budget doesn't quite stretch that far, simply adding purses in classic shapes or statement shoes can really elevate your look.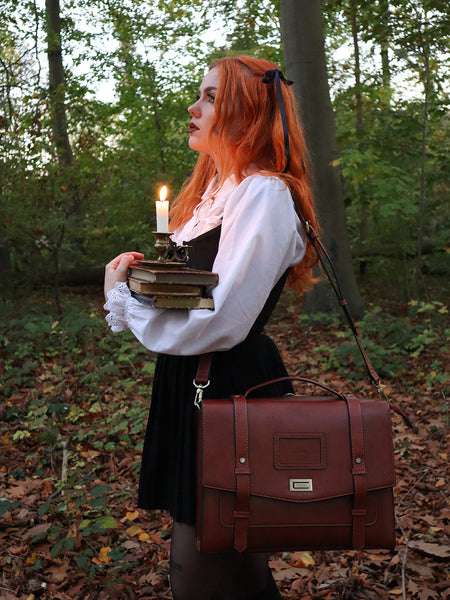 Hair
What really sets Wednesday apart from other characters in The Addams Family is her hairstyle—two long braids framing either side of her face. This iconic 'do is surprisingly easy to achieve; all you need are some hair elastics and plenty of patience! Just section off two portions of hair at each side of your head and tie them off into tight braids using elastics as close to the scalp as possible. For an even more authentic Wednesday-style braid job, try adding in bows or ribbons for a bit extra flair! 
Wednesday Addams' dress sense is timelessly iconic; it's easy to see why she has remained popular over all these years! Her wardrobe staples include collared shirts and neckties paired with skirts and trousers; she loves layering garments like blazers over turtlenecks and long-sleeved shirts for an extra touch of sophistication. Her color palette usually features black as its base combined with muted tones like gray, white, navy blue, burgundy and more; even brighter colors are adapted into muted hues like forest green and mustard yellow for an elegant look that doesn't scream "look at me" too loudly. Accessories such as hats (berets/Newsboys caps), purses (clutches/satchels) complete her signature look along with those very recognizable braids that make us remember why we love Wednesday so much in the first place! All these elements come together to create a unique wardrobe that celebrates Wednesday's spooky spirit while maintaining a level of refinement appropriate for someone so fashionably ahead of their time!