Timeless Elegance: Discover Vintage Leather Handbags for a Stylish Retro Look
Introduction
Have you ever stumbled upon a vintage handbag at a thrift store and fallen head over heels in love? That rush of excitement as you discover a unique retro treasure is pure fashion magic. Well, get ready for major heart eyes, because we've rounded up the dreamiest antique-inspired vegan leather bags that will sweep you off your feet. Keep reading to meet five little vintage lovelies you'll absolutely adore!
The Power of the Purse
A handbag does way more than just carry your stuff in style - it channels confidence, transforms outfits and makes magic happen! The right bag offers a range of perks no busy girl can do without:
Convenience - Keep daily must-haves at your fingertips in compartments, like lipgloss for quick touch-ups or snacks for on-the-go munchies.
Versatility - Mix and match bags to match different events, from a classy clutch for date night to a laidback tote for weekend adventures.
Self-Expression - Rock your unique style with fun embroidered boho bags or colorblock carryalls that showcase your flair.
Practicality - Go hands-free with crossbody bags and shoulder styles that let you juggle kids, groceries, coffee runs and more.
Professionalism - Walk into work looking fab and ready to conquer with a chic briefcase or sleek satchel.
Security - Relax knowing your valuables are safe in a bag that zips or buckles closed to thwart sticky fingers.
With endless options for patterns, materials and shapes, there's a perfect purse for every occasion that lets you strut in confidence and style. Handbags have the magic power to pull together an outfit and amplify your inner fabulousness!
How to Find Your Perfect Bag
Searching for the perfect handbag can feel like an epic quest to find "the one" - that bag that speaks to your heart and fulfills your every need. With so many options on the market, where do you start? Don't worry - we're here to help you narrow down the search and find your ideal purse partner.
Size
When seeking your vintage-inspired vegan leather soulmate, first consider size and make sure she's a good fit. Look for a bag sized right to neatly carry your daily essentials without excess bulk weighing you down. A bag that's too small will leave you juggling items and wishing for more room. But go too big, and you could get lost in a cavernous tote.
Comfort
Next, think about comfort with the straps. Seek out smooth, sturdy straps that allow multiple wearing options - handheld, over the shoulder or crossbody style. Comfortable straps distribute weight evenly and provide versatility to transition your bag from day to night events.
Organization
Organization is key for keeping your relationship tidy and stress-free. Seek out a bag with plenty of pockets, compartments and zippered closures to keep your items neatly organized and easily accessible, with no more frantically digging around for your keys!
Security
For security, opt for bags that close securely with sturdy zippers, flaps or snaps to protect your valuables inside. You want a bag that closes up tightly like a vault to give you peace of mind in crowds.
Style
Of course, style matters too in finding your perfect partner. Look for chic silhouettes, fun colors and patterns that reflect your personal taste. The right bag should complement your wardrobe and be an extension of your own fabulous flair!
Best Petite and Practical Bags for Every Style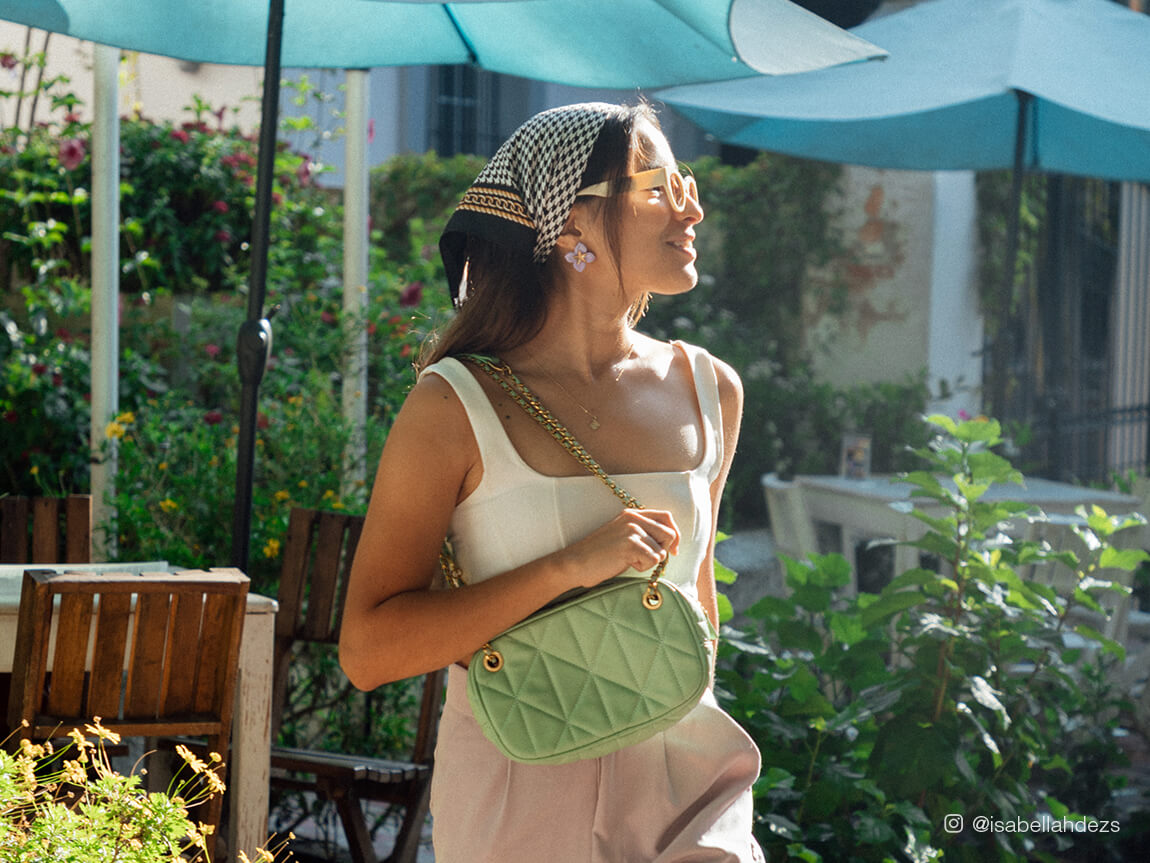 Good things really do come in small packages, like the precious Melody Quilted Shoulder Bag. At just 9.5"L x 6"H x 2.2"W, this mini bag is beautifully compact without sacrificing style. The lightly distressed quilted pattern looks softly vintage, evoking nostalgia for eras past.
But this cutie has modern practicality, too. Zip closure and flat internal pocket keep essentials secure. An adjustable chain & leather shoulder strap offers a customizable fit. With 4 vivid colors to choose from, you're sure to find a timeless shade to make this bag your own. Petite and practical never looked so good!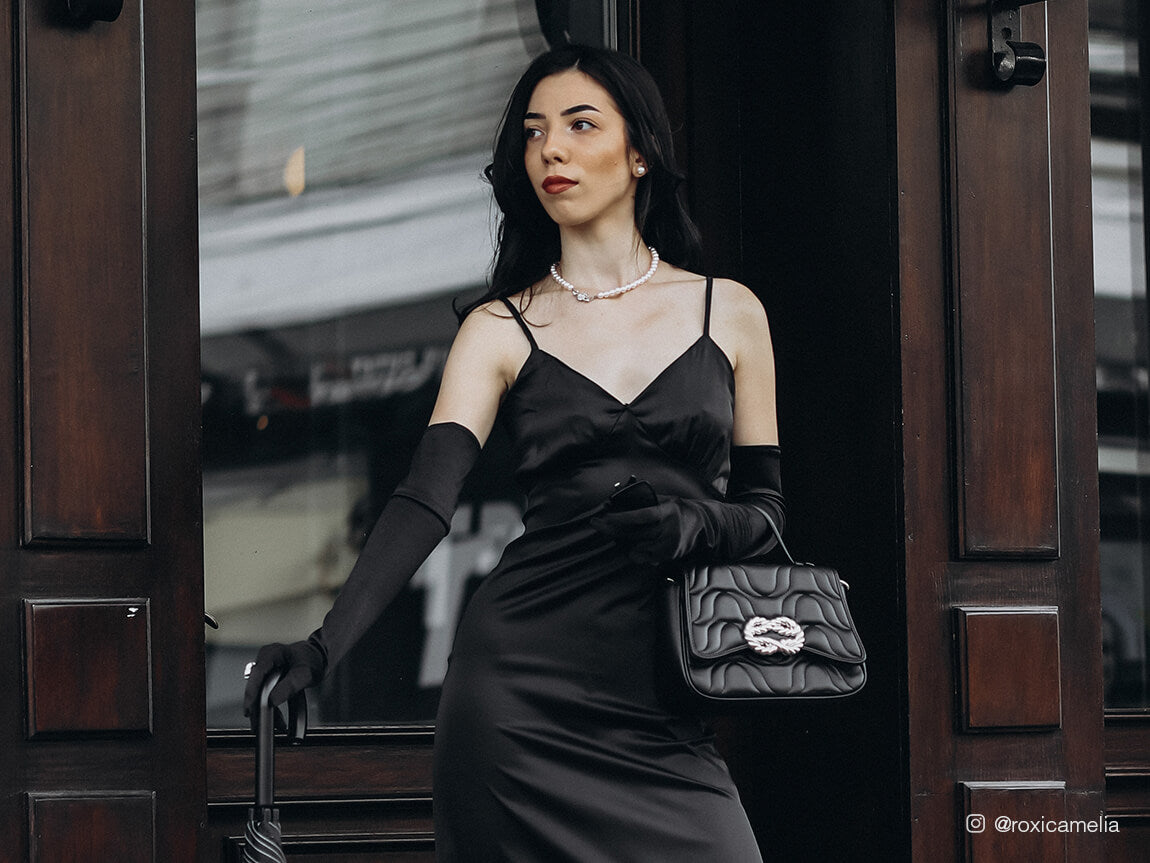 For a bag that's tiny in size but big in style, swoon over the Infinity Love Quilted shoulder bag. At 9" long and 6.8" high, it masters that small-but-mighty allure. The curved quilted exterior looks gently well-loved, channeling the vintage character. An infinity love symbol secures the flap, adding a playful personality.
A detachable chain-and-leather strap provides styling versatility, while the interior pocket organizes must-haves. This lightweight little bag makes a mighty fashion statement. With three color options, you're guaranteed to find a hue that speaks to your spirit.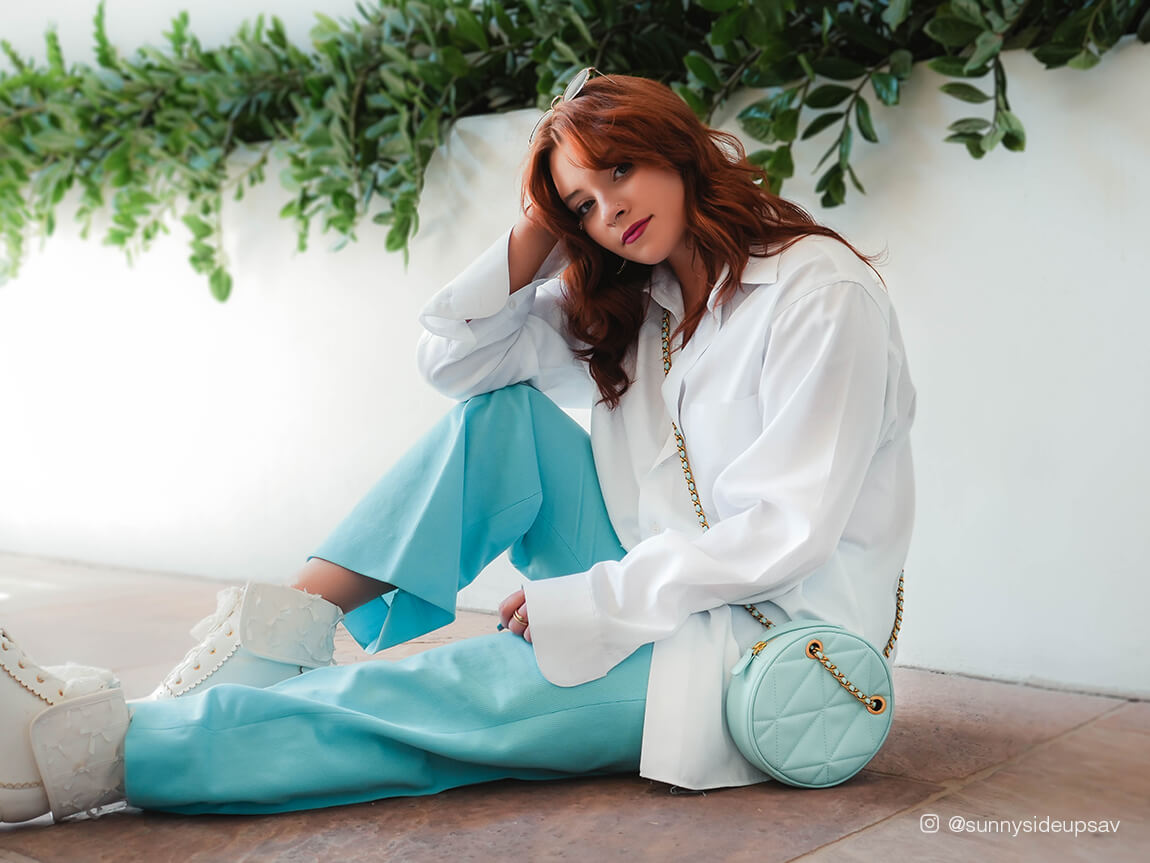 For the vintage-lover who appreciates polish, meet your marvelous match - the Melody Quilted Circle Bag. Ladylike quilted leather, silver-tone hardware, and round shape give it an elegant allure. But the zip closure and interior zipper pocket blend in modern practicality.
An adjustable shoulder strap provides alternate carrying options to suit your needs. Timeless and versatile, this graceful bag will elevate any outfit, whether you're headed to the office or an outdoor wedding. For a vintage look with prim charm, this polished princess can't be beaten!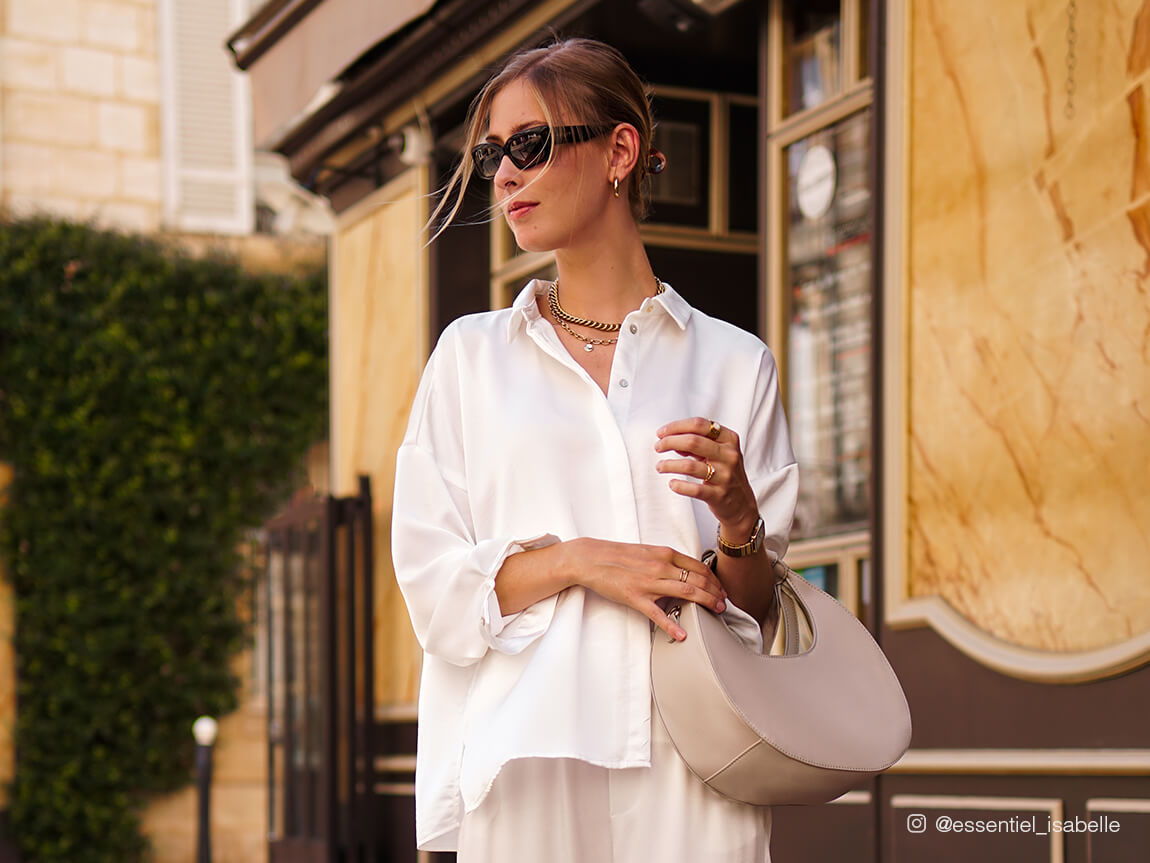 Embrace your free-spirited side with the laidback loveliness of the SELENE Handbag. This slouchy hobo style has a crescent moon silhouette that evokes a '70s boho attitude. The supple vegan leather forms a relaxed shape with minimal hardware for organic appeal.
Interior compartments keep daily or travel necessities organized. An adjustable strap allows shoulder or crossbody carrying. Pair it with flowy dresses or jeans and tees - this bag fits right in. For the modern gypsy with a nostalgic soul, this bag is your kindred spirit.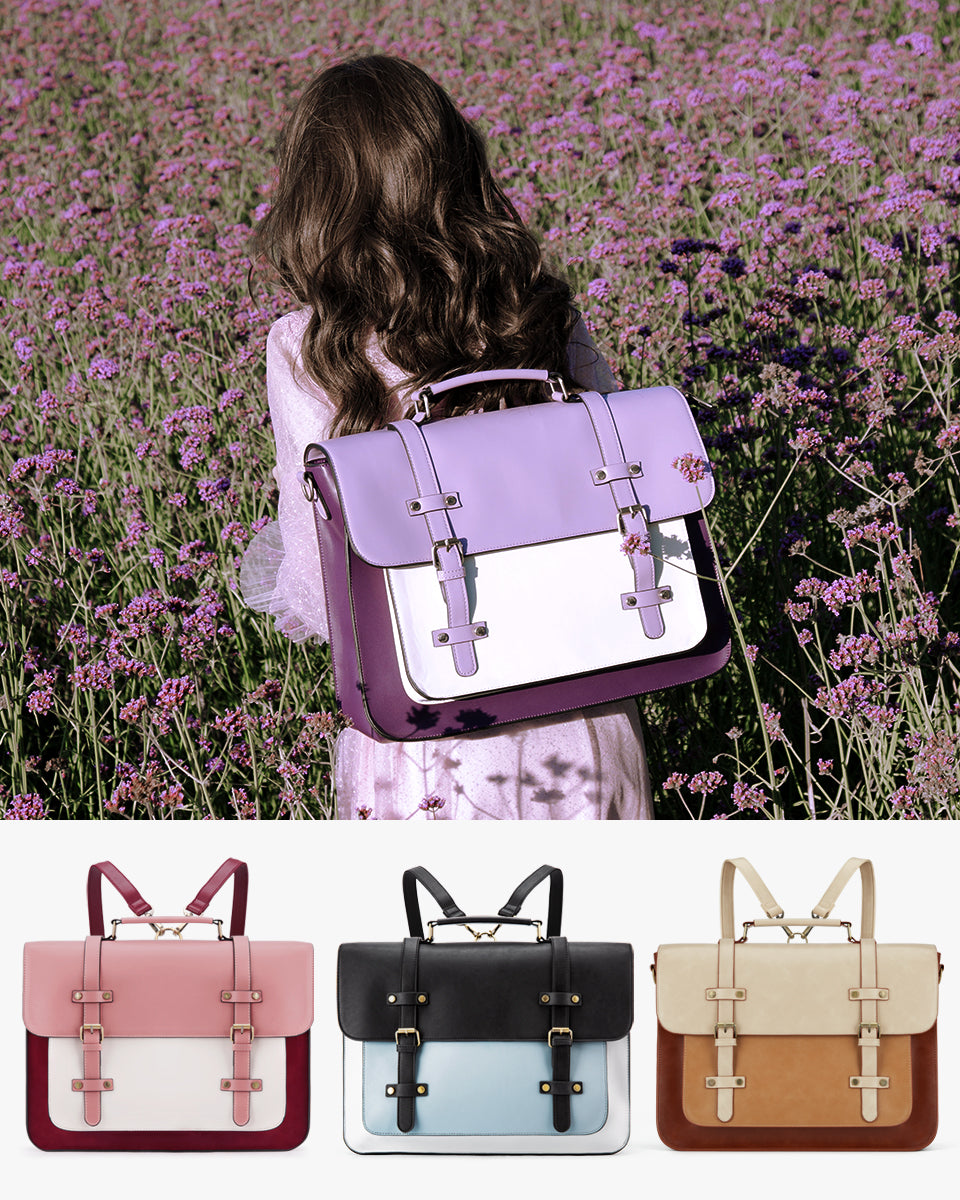 Pretty as a petal, the Pink Bow Small Briefcase brings playful glamour to any occasion. The color-blocked pink, top-handle design and white vegan leather look freshly feminine and delicately darling. A front bow detail channels sweet retro girlishness.
Inside pockets organize small items while keeping their contents hidden. Carry as a briefcase, or use the adjustable strap for over-the-shoulder sophistication. For the inner child who still loves all things chic, this bag perfectly blends style and sweetness.
Discovering These Treasures at Ecosusi
These swoon-worthy vegan leather lovelies are exclusively available from one compassionate brand – Ecosusi. As pioneering creators of sustainable vegan fashion, Ecosusi selects the most eco-friendly materials. They ensure ethical working conditions across their entire supply chain.
Beyond their ethical practices, Ecosusi bags brim with personality. Each vintage-inspired design channels retro charm while feeling fresh and unique. With thoughtful accents and playful palette options, these bags make timeless treasures you'll truly cherish.
Discover the full collection of Ecosusi's retro-fabulous finds online at their boutique shop. They ship worldwide directly from their Hong Kong headquarters, bringing vintage vegan luxury to you.
Conclusion
Vintage-style vegan leather handbags don't get more adorable than these five lovelies from Ecosusi. Each mini bag makes a mighty (and oh-so-sweet) fashion statement. Their one-of-a-kind details give them an irresistible personality all their own. When you carry one of these beauties, get ready for the swoons and compliments to commence!
Q&A
Q1: What is the difference between antique and vintage-style handbags?
The key difference is that antique handbags are 100+ years old and made during their period of origin, while vintage-style bags are newly made but designed to look like original vintage pieces from past decades. Antique bags have artistic and historical value for their age, while the vintage style seeks to capture old-fashioned charm and nostalgia in new bags.
Q2: Are vintage-style bags an investment?
Yes, vintage-inspired vegan leather bags are built to last, and their unique retro charm doesn't go out of style. When well-cared for, they become better with age, making them a wise fashion investment.
Q3: Can vintage vegan leather be ruined by rain?
Vintage vegan leather has a protective coating that makes it water-resistant. However, prolonged exposure to rain or moisture can damage the bag. It's best to spray it with waterproofing spray and avoid heavy rain.
Q4: How can you tell cheap vegan leather?
Cheap vegan leather looks overly shiny, feels thin and plasticky, and lacks realistic grain patterning. High-quality vegan leather has a subtle sheen, thick durable feel, and embossed detailing to mimic genuine leather.
Q5: How many years does a vegan leather bag last?
With proper care, a good quality vegan leather bag can last for many years. Bags made from durable vegan leather materials and quality construction can easily last 1-3 years or longer with proper care and storage. Storing the bag filled with tissue paper when not in use helps it retain its shape and prevents cracking. Investing in a well-made vegan leather bag and caring for it properly makes it a piece that can stay in style for years to come.
Q6: What jewelry should I wear with a vintage-style vegan leather handbag?
Vintage-inspired jewelry like strands of pearls, rhinestone brooches, carved cameos, or chunky bakelite bangles pairs seamlessly with the retro charm of these bags. Dainty gold jewelry also complements the vintage look beautifully. Stacking petite bracelets and layering necklaces in varying lengths creates a glamorously nostalgic vibe.
Q7: What shoes work best with vintage-looking handbags?
Timeless silhouettes like block-heeled Oxfords, dainty Mary Janes, elegant T-straps, chic loafers, and ankle strap pumps complement vintage-inspired bags perfectly. Choose classic styles in supple leathers or rich suedes over ultra-modern stilettos. Grounded neutral and tan earth tones keep the look grounded in refined, nostalgic elegance. The vintage bags paired with elegant, vintage-inspired shoes create an effortlessly stylish retro look from head to toe.
Read More