Discover the Timeless Charm of Vintage Tote Bags: A Must-Have Accessory for Retro Enthusiasts
Introduction
Take a stylish trip back in time with the comeback of vintage-inspired bags! These nostalgic and eco-friendly accessories are a must-have for infusing any outfit with retro flair.
Vintage-style bags tap into nostalgia with prints, colors, and silhouettes that transport you back to bygone eras. The durable, natural-looking materials and classic designs are functional for carrying daily essentials while also being fashionable for making a statement. Vintage-inspired bags are the perfect accessory for retro aficionados.
Why Totes Are Timeless
Totes are the ultimate vintage accessory because they fuse style and function for the retro enthusiast.
A Bag for Every Need
Roomy interiors swallow up daily essentials with space to spare. Totes fit laptops, books, lunch bags, extra shoes, cosmetic cases - you name it!
Interior pockets and compartments keep your items neatly organized so you can find what you need in a flash. No more digging around endlessly for your keys!
Adjustable long straps slip comfortably over your shoulder for hands-free carrying. Go from work to workout without missing a beat.
Built to Last
Durable canvas or leather materials withstand years of daily use without showing wear and tear. The retro styles only get better with age!
Reinforced stitching around straps and seams prevents ripping or splitting, even when loaded up. These bags are made to handle whatever you toss inside.
Water-resistant coatings protect your belongings on rainy commutes or accidental spills. Vintage inspiration meets modern functionality.
Wearable Works of Art
Quintessential retro prints from polka dots to psychedelic patterns add an artsy pop of personality.
Different eras offer diverse aesthetics - mod sixties, disco fever seventies, neon eighties. Find a print that channels your favorite retro decade.
Vintage-inspired totes allow you to express your one-of-a-kind style. With options from classic to wildly artistic, there's a nostalgic bag for every taste.
Totes add instant old-school cool to any outfit while carrying all your daily necessities in timeless vintage style. They're the all-in-one accessory for the retro devotee!
How to Choose Your Perfect Vintage Tote
With countless vintage-inspired totes to choose from, focus on these key features to pick the perfect bag:
Quality Materials
Look for totes made from faux or vegan leather that develop character over time without using animal products. Check that the bag has reinforced stitching in high-wear areas so it holds up to years of daily use. The durable metal hardware gives a cool vintage vibe while also being sturdy for every day. Cushioned straps feel comfy on your shoulder when the tote is loaded up. Adjustable straps conveniently let you switch between carrying the bag over your shoulder or by hand, depending on what's most comfortable.
Clever Organization
A well-designed tote has strategic interior and exterior pockets to keep your essentials neatly organized and easily accessible on the go. For example, a padded laptop sleeve secures your computer, while a tablet pocket corrals another device. For frequent tech transport, thick cushioning prevents damage. Also, slip pockets for your phone, wallet, and other daily must-haves keep items visible in a jumbo main compartment. Furthermore, key leashes, interior dividers, and exterior zip pockets maximize organization.
Nostalgic Stylish Touches
Have fun with retro-inspired style details that speak to you. Playful printed patterns can infuse quirky personality. Additionally, vintage color palettes in wine red, light gray, and brown evoke nostalgia. Structured silhouettes and hardware touches hint at iconic retro eras. Channel motifs from the mod 60s, carefree 70s, or preppy 80s. For versatility, adjustable, removable straps allow you to switch up carrying methods to complement business casual, gym, or party outfits.
Eco-Conscious Faux & Vegan Leathers
Forward-thinking brands like Ecosusi are driving sustainable style with vintage-inspired bags crafted from innovative animal-friendly leathers.
Faux leathers made from recycled plastics and plant-based materials look and feel like the real thing while avoiding animal exploitation.
Vegan leathers utilize natural materials like cork, waxed cotton, and pineapples that develop beautiful patinas over time.
Advanced manufacturing techniques yield durable, water-resistant faux and vegan leathers perfect for stylish, functional totes.
Ecosusi's thoughtful designs aim to create pieces you'll love and use for years to come.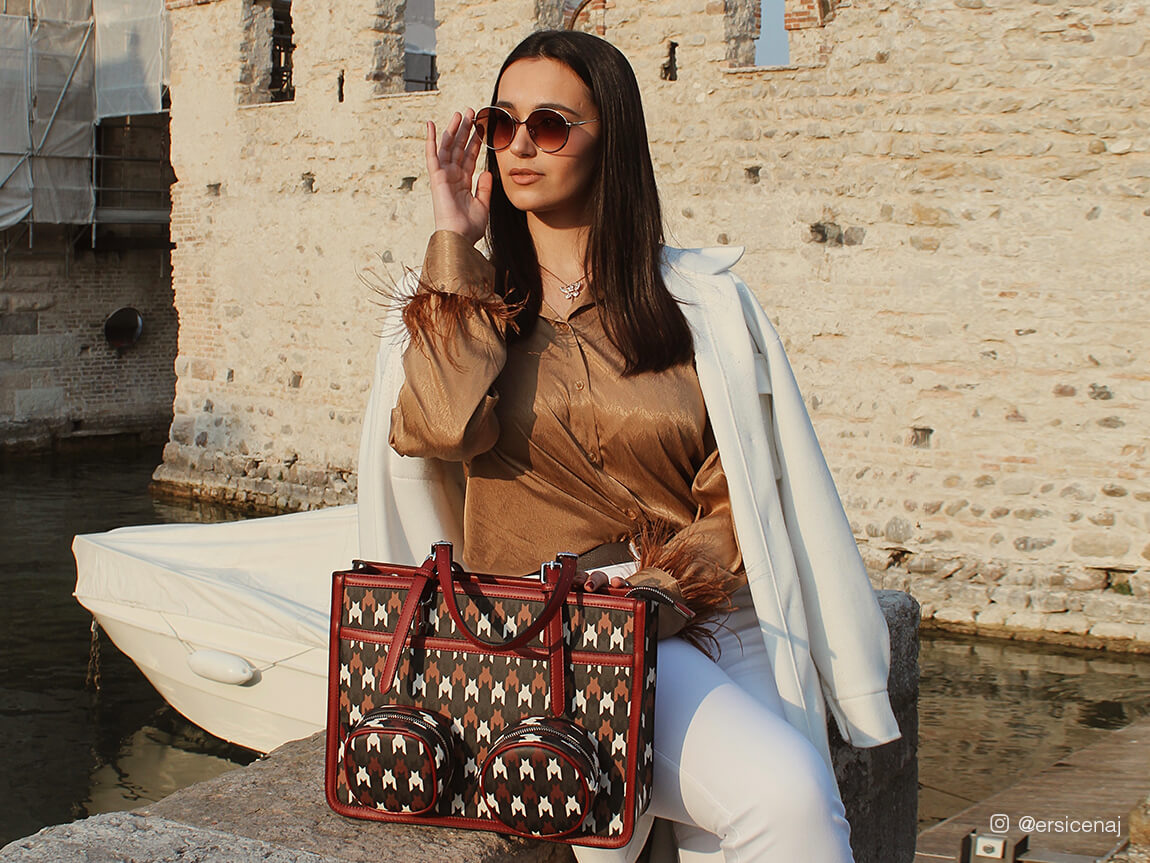 Whimsical printed pattern exterior pops against rich wine-colored faux leather.
Roomy 13.5" x 4" x 10.6" interior easily fits laptops, notebooks, workout gear, and daily essentials.
Interior pocket keeps smaller items organized while magnetic snap button and chain details add flair.
Adjustable strap allows comfortable shoulder carrying or hand carrying.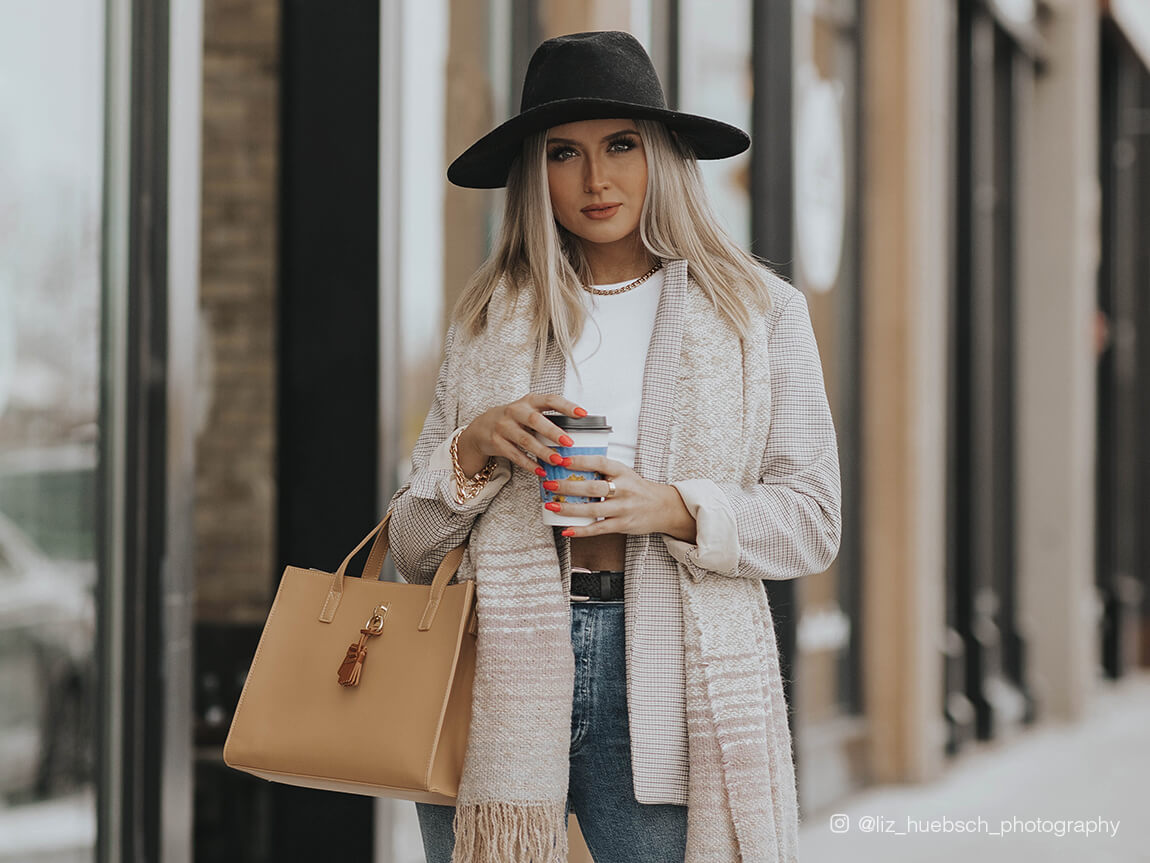 Sleek professional look in black vegan leather suits workdays and weekends.
Spacious main compartment fits 11.6" laptops. Multiple storage compartments.
Lightweight design looks chic and keeps you moving with ease.

13.4"L/ 9.45"H/ 3.9"W 

size hits the sweet spot between roomy and compact.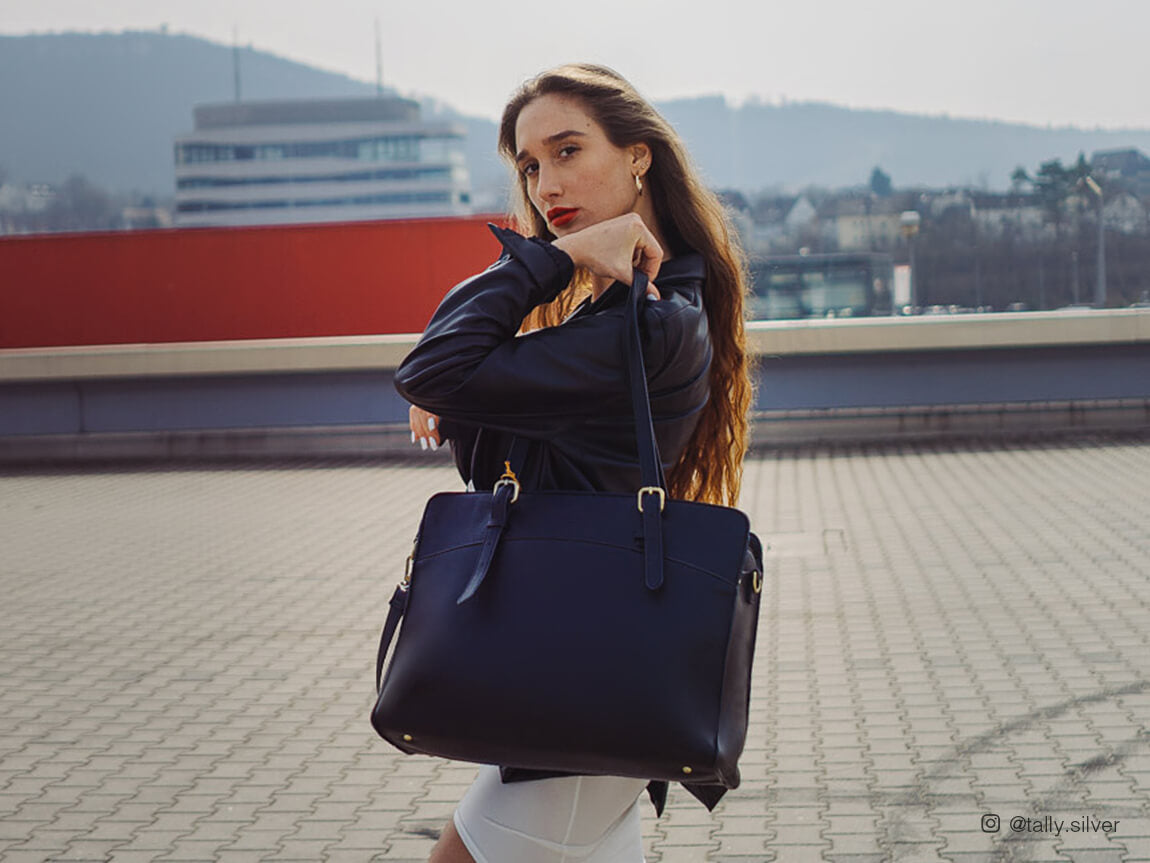 Rich brown vegan leather briefcase protects 15.6" laptops in a padded sleeve.
Interior organizer features a tablet pocket, pen slot, pen pockets and more to keep tech and essentials tidy.
Exterior zippers allow quick access to items. Top handles and a removable strap offer carrying versatility.
Sophisticated style transitions effortlessly from workdays to weekends.
Ecosusi's bags feature playful prints, smart organization and eco-friendly build to become lifetime favorites. Their vintage inspiration shines through in pieces made for today and tomorrow.
How to Care for Your Faux & Vegan Leather Treasures
To maintain your vintage-inspired bag, provide some TLC:
Spot clean stains immediately using gentle a soap, warm water, and a soft cloth.
Every few months, wipe down the entire exterior to remove dirt buildup.
Allow to completely air dry before storing to prevent mildew.
Stuff lightly with acid-free tissue when storing to maintain shape.
Avoid direct sunlight to prevent fading.
With occasional care, your faux or vegan leather bag will only improve with use!
The Perfect Vintage-Inspired Accessory
Vintage-inspired bags allow you to express your distinctive retro style sustainably. With minimalist to wildly artistic options, there's a nostalgic bag for every taste. Brands like Ecosusi offer innovative prints, colors, and silhouettes that retain timeless charm. For the retro devotee, a vintage-style bag is the perfect accessory to complete your look with flair. Let these eco-friendly classics stylishly tote you through time!
Q&A About Tote Bags
Q1: Which brand is best for tote bags?
Ecosusi offers a wide selection of top-quality vintage-inspired tote bags. Their faux and vegan leather bags feature thoughtful retro details, clever organization, and durable eco-friendly construction.
Q2: Why is the tote bag so famous?
With its roomy interior and comfortable shoulder straps, the versatile tote bag has become a popular accessory for carrying everyday essentials in style. Totes are made from durable materials that withstand daily use while offering fashionable prints and colors to add retro flair. Their spacious interiors keep you organized and adjustable straps provide hands-free convenience.
Q3: When should you carry a tote bag?
Totes are wonderful daily accessories for work, school, travel, shopping, and more. Their roomy interiors and hands-free carrying style make them ideal for activities when you need to haul a lot of items.
Q4: How to shop for vintage-style handbags?
Check Ecosusi's website for a wide selection of vegan and faux leather vintage totes. Browse different retro prints and silhouettes. Look for details like durable materials, reinforced straps, interior organization, and padded tech sleeves.
Q5: Are tote bags still a trend?
Yes, totes remain popular for their stylish vintage appeal and practical functionality. New eco-friendly faux and vegan leathers update this classic bag for modern lifestyles. Totes are a timeless, versatile accessory.
Q6: Who usually uses tote bags?
Totes appeal to an array of lifestyles and personalities. Students, commuters, travelers, working professionals, parents, artists, and anyone who wants a spacious, durable, and stylish bag can enjoy the benefits of a quality tote.
Read More