ECOSUSI Cottagecore Summer Inspiration- Bring Ultimate Romanticization to Simple Life
What is Cottagecore style, and why is it trendy in 2022?
Cottagecore is a lifestyle originally active on social media. If you can associate it with the everyday problems the world has been facing in recent years, you can see the reason for its popularity. Yes, the pandemic. Long periods of home quarantine inspired an endless love and desire for country living, and the concept of contagecore was widely promoted.
Cottagecore contains two parts. A "cottage," which means country house or villa, from which it is derived to encompass all sights of the local countryside, such as plants, flowers, native decorations, forest, architectural styles, etc. At the same time, "core" is used to depict new categories and genres. The term continued to spread and expand through social media platforms such as Instagram/Tumblr/TikTok etc., and was eventually recognized in several countries around the world. Now in 2022, it has gained more popularity than other styles.
Although some people are unaware of the concept, their lives are actually filled with it, such as social media, fashion, style, clothing, home, and even cars.
So what exactly is cottagecore style? Cottagecore style is actually a fashion aesthetic that aims to bring an idealized and romanticized rustic lifestyle inspiration into the fashion. Think old villages, simple outfits, colorful gardens, and silent forests... These are the things that make our hearts sing outside the hustle and bustle of the city. By substituting the romantic and simple elements of the countryside into fashion, we are actually creating Cottagecore style.
Of course, the cottagecore style is not limited to this. As we explained above that cottagecore is a romanticization of countryside or suburban life, so some supernatural elements can also be included in the scope of cottagecore, such as fairies, witches, wizards, fairy tales, and so on. But the core point is still the concept of living in harmony with nature and simplicity.
Cottagecore will also be affected by the season and produce different characteristics and features. No matter what, summer will be the time when the cottagecore style is more prominent because there is plenty of sunshine, flowers, picnics, and all the wonderful things that satisfy the romantic feelings. This year, Ecosusi is preparing some cottagecore summer style that anyone can pull off with our beloved and elegant bags. We hope this could inspire you and help you create your own cottagecore summer style.
Trending now, Cottagecore summer styles with ECOSUSI
1、Traditional Cottagecore Style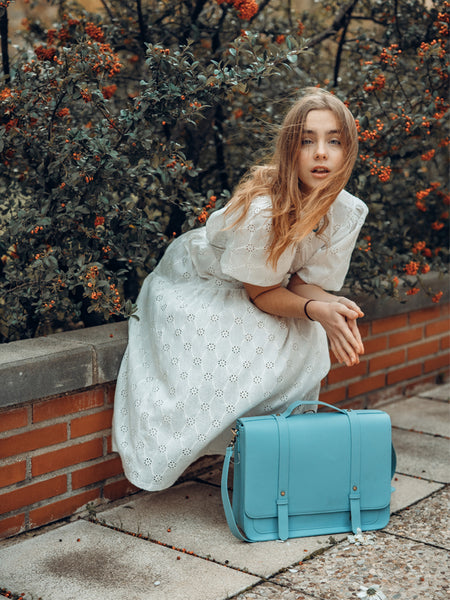 Traditional cottagecore styles usually include perforations, patterns, prints, etc., to highlight the quality of femininity. Simple colors and minimalist dresses are mainly used, just like @claaragalle did. This light teal floral dress channels well with the season, while the pastel blue color of our Summer Garden Romance bag further showcases a gentle, elegant temperament.
2、Bloomcore Style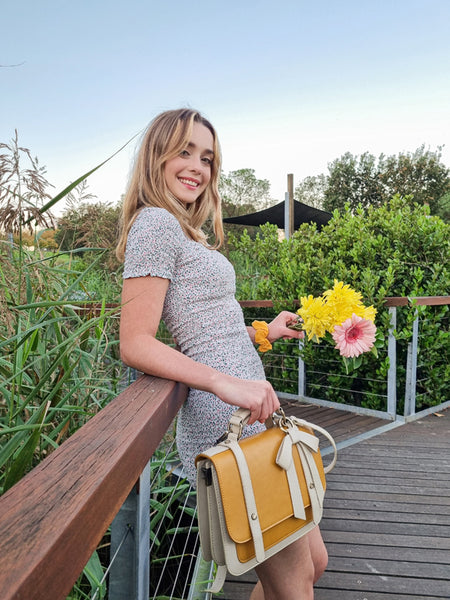 Regardless of the type of Cottagecore styles, minimalism is essential, and Bloomcore is no exception. But unlike the traditional Cottagecore style, bloomcore is more focused on flowers or dried flowers for embellishment and decoration. @kaylakimbap shows us her unique bloomcore style, where summer-specific flowers highlight the vibrancy of life and romance of ingenue, while our Sombre small briefcase adds a bright vibe to a simple tone through its vintage yellow color. This look is sure to steal the show.
 3、Ethereal Cottagecore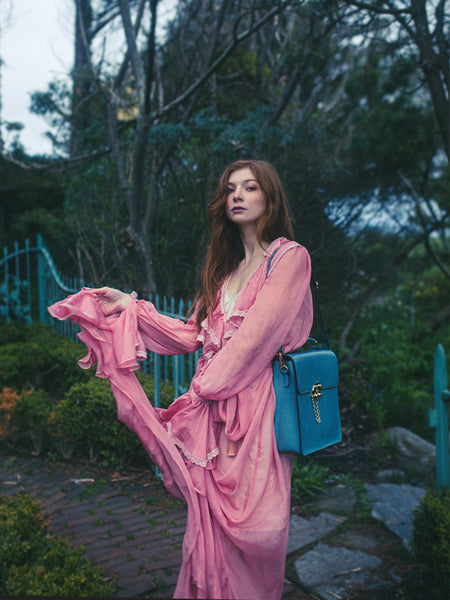 Ethereal cottagecore is inspired by the woodland fairies. This style has an elongated, delicately detailed, and dreamy look to highlight the maturity and wisdom of women, even at young age. ph@a.m.whispers model@dearest.alyssa nicely shows us the characteristics of this style, the gorgeous but simple pink dress highlights the mystery, which is further enhanced by our blue Cornelia bag. At the same time, the scintillating gold-color details on the bag bring a sense of elegance.
4、Southwest Cottagecore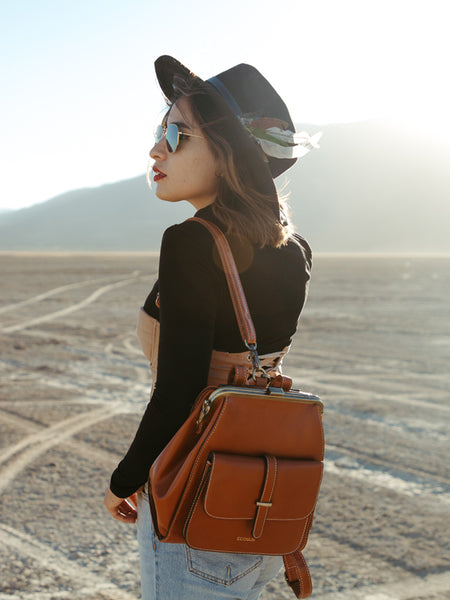 Southwest cottagecore is very different from the above three, but it is still within the category of cottagecore style. Much of the reason for this difference comes from culture, as the southwest cottagecore style is influenced by a variety of cultures, such as West, Spanish, coastal, etc. Therefore, in southwest cottagecore style you will rarely see flowers and forest decorative features, instead, you will see jeans, cowboy hats, etc. Just like @bellaciaophoto @isabellahdezs show in the picture. This style is more suited to warmer seasons, like summer; it also uses warmer colors, like the red of our Small Casual backpack. Besides, you can always add some beachy and whimsical elements to spice it up.
These are the most popular cottagecore styles for 2022. You can equally combine your ideal rustic features and favorite cultural decor to create your own cottagecore style. Express yourself with your fashionable outfits, that's what ECOSUSI has always been our primary philosophy.
We have also selected some bags and shoes suitable for the cottagecore style, and hope these products will bring you more inspiration.